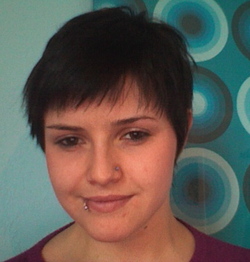 Name: Gemma Povey

What is your business?
My organisation is Future Arts. We are a new group delivering music and media technology projects in economically deprived areas in Leeds. We use creative technology as a means to develop people's skills, to build confidence and self esteem and to tackle social issues by give people a platform for their voices to be heard. At the moment we operate as an outreach service delivering in community centres and a variety of other venues. Along side this we also take contracts to work with both private and social sectors where our expertise and equipment and required.
What influenced you to set up this business?
From already working on a project that delivered an outreach programme for technology I saw how well it was received, how much the users got from it and what a shame it was when that funding ran out. Me and my colleague Paula Temple saw this massive gap for informal, fun and creative learning that no one was stepping up to fill. Understanding how much of an influence music has had on our own lives and seeing the benefit for others first hand we decided that we would begin our journey to creating an organisation that could offer something really special and lasting in the community. What has been the influence in keeping us going, perhaps when we haven't had the results we wanted, or fast enough has been talking to people who we worked with in the past and will in the future. It keeps reminding us the gap is still there and the service is needed.
What is the best advice you have ever received?
Quite simply, Listen
What are your pet hates?
Hoovers that don't suck!
People who don't listen!

Who in the world do you most admire and why?
Thom Yorke of Radiohead. What an amazing man - beautiful voice, amazing melodies, a very talented guy. But beyond that quite politically active. He has a dig at the world with his songs but follows it up by campaigning for changes with regards to global warming (the big ask) and the Iraq war.
Also the controversial dig at the music industry and the big wigs that call the shots. I love the fact that he and the band gave the music-buying public the right to choose if and how much they would pay for their album. It opens up doors and flies the flag for DIY music and musicians, proving that if it is good people will pay. I feel that the industry is trying to keep a tight hold of the reins and not flexible enough concerning music availability over the net, they aren't moving with the times.
If you want to know more about Future Arts, members can find Gemma's contact details by logging into the Catalyst system.