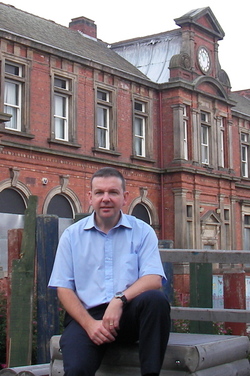 We have introduced a new feature on the blog...
Starting this week, each Friday you can get to know other Catalyst members and find out about their products and services in our 'Member Spotlight' feature.
I cannot think of a better person to feature on our first week than longest-standing Catalyst member, Jeremy Morton. So here goes...
Name: Jeremy Morton
Where do you live?
In Beeston. I've lived here since 1984 and never regretted it. It's a vibrant community with loads going on and many many good friendly people. It's got its problems, but we're working on those!
What is your business?
Tiger11 is a development trust so we will respond to the needs of the community. Our first business is to refurbish the former Hillside Primary School, so i guess we are property developers and buildings management. The difference is that we will re-invest the profits back into the community and we care about who takes space in the building so hosting the Beeston Catalyst is fantastic.
What influenced you to set up this business?
I've been involved in the regeneration of Beeston for the last ten years, but as a resident I've had enough of it being done to us by other organisations - the council, housing associations, etc. Tiger11 is about people in Beeston deciding on our priorities and having the financial independence to do what we think is right.
What challenges are you currently facing?
Redeveloping a listed building! Initially it seemed pretty straightforward, but issues keep popping up. People keep saying "No you can't do that", or "You just have to do this extra thing before you start". And they never tell you in advance that there's another hurdle coming up so that you can programme the extra work to fit your timetable.
Your greatest moment:
Getting the job as Director of Tiger11. I got the project going, but I was terrified some clever clogs would come along and take the job.
What is the best advice you have ever received?
It's better to make the wrong decision than not make a decision at all.
And finally, if you could be any animal, what would you be and why?
What am I? Not sure. I'm a marathon runner not a sprinter, I'm tenacious, sometimes grumpy, loyal, dependable - what does that make me?
Answers on a postcard please!?!?
A big thank you to Jeremy for being our Member Spotlight 'guinea pig'! To find out more about the work of Tiger 11, click here.
Next week it could be you!!!
If you would like to feature in next week's Member Spotlight - an opportunity for you to promote yourself, your products and services - please email [email protected].