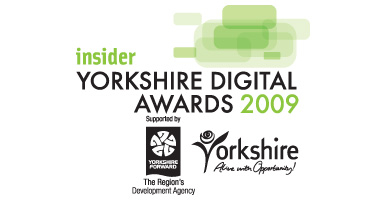 NOMINATIONS EXTENDED!
If you haven't already entered your company or project into the Yorkshire Digital Awards, you now have until the 13th February to do so. 

Entering is free and couldn't be easier -  just click here  to be taken to the nomination form.
Insider Yorkshire Digital Awards 2009 
Thursday 7th May 2009 
Saviles Hall, The Royal Armouries Museum, Leeds 

Are you bowled over by some of the talent you have seen in the Yorkshire digital and creative sector? Perhaps you work in the sector itself, and feel the project you are working on at the moment, or the piece of technology you are developing, really needs wider attention. Even if you don't work directly in the industry, perhaps you have seen a mind-blowing website that establishes a new benchmark in quality, or a new digital equipment you think could really make a difference to our lives or the way we do business. 

Whatever your situation, if you wonder why so many companies still seem to think they have to go to London for creative work done when so much excellent work goes on up here, then the Insider Yorkshire Digital Awards are for you. Whether you are in the industry or just an interested observer, we want to hear from you. 

This successful awards programme, now in its tenth year, acknowledges and promotes digital companies in Yorkshire and the Humber who are really pushing the bar in creativity and technological prowess. There are clearly benefits to winnng too. Huddersfield-based Liquid Accounts, for example, won the Best Application of Internet Technology category in 2008. "Winning that has really given us a boost," says marketing director Lisa Kendrick. "It has opened up a number of doors for us, and it has given us the confidence to go on to bigger and better things. Finally, it was a great do that allowed us to let our hair down and celebrate three years of hard work." 

Here at Insider we think it's really important to talk up the importance of the creative and digital sector at a time like this as well. Too much of what the industry does in this region is still taken for granted, yet the possibilities of what the industry could achieve – both for itself and for the regeneration and future development of Yorkshire as a whole – are enormous. 

That's one reason why this year we are introducing a new award for best new talent*. The award will be open to any student in their final year of study on a creative or digital course in a Yorkshire institution who can demonstrate by their project work and their ideas that they really are the "next big thing". We want to be first to give them recognition and make them aware too that there is plenty of work on offer up here in Yorkshire. 

So do you need any more reasons? Why not enter now? 


How to Enter 

Entries are open to any digital company that is based in Yorkshire and the Humber. Please be aware that companies will be restricted to enter a maximum of two award categories. The awards categories are: 

Best Web Design Company sponsored by Yorkshire Forward 
Best IT Consultancy 
Best Business to Business Website sponsored by NYnet 
Best Business to Consumer Website sponsored by Invest in Bradford 
Best Application of Internet Technology sponsored by Yorkshire Forward 
Best Digital Start Up sponsored by Barnsley Digital Media Centre 
Best Game sponsored by Screen Yorkshire 
Best Entertainment Site 
Best e Learning Initiative 
Best Application of Mobile Technology sponsored by 4iP 
Best New Talent sponsored by Leeds College of Art & Design 


If you wish to submit an entry to the Awards, without any further obligation, please click here for a nomination form. *We will not be seeking formal nominations for the Best New Talent award. These will be sought individually from college tutors. 
Entries Close: Friday 13th February 2009 


Attending The Dinner 

Based on response to the black tie dinner/disco last year we expect an audience of over 300 and demand for tables to be high. Therefore early booking of tables is advised. Table reservations will be held pending payment and will be booked on a first come first served basis. Please click here for a table booking form and return it to us as soon as possible to secure your table.  

Should you require further information regarding the awards or the dinner itself, please call Lynda Craig or Helen Rangeley on 0161 907 9704 or email helen.rangeley@newsco.com.